Welp. So thanks to @rebroff for slogging through a game I set up tonight on Twitter called 'guess dat gam'. As promised, I'm going to make an inconsequential post about my upcoming game with Adult Swim:
Only a very small aspect of this mp3 is relevant to my upcoming game. ~WHICH PART IS IT?!~

In an effort to maintain some sort of ~ambiguity~ and ~mystique~, I'll be filling this post with old assets related to this game — old assets that've either been outright trashed, or assets that've since been revised. Keep in mind that these are all of VARYING DEGREES OF THRASHINESS and that basically anything here is not at all in any way indicative of what you'll see in the finished game…?! (No, seriously; this is garbage)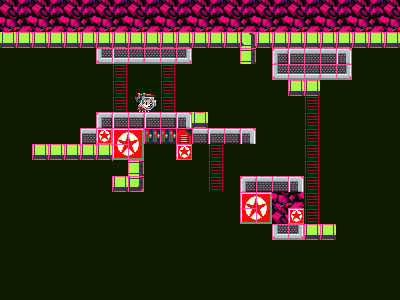 Old mockup that was rejected pretty early on on account of Cave Story already exists.
Old song that doesn't fit in with the game anymore.


Old logo from before the game had a major retheme (the title has been PIXELLATED OUT like an inappropriate thing on television)
Old song that I wrote for TU that I basically re-tooled and recycled for this game. OOH WHAT COULD IT MEAN?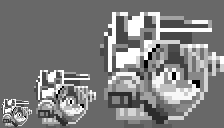 REALLY DODGED A BULLET HERE NOT USING THIS STYLE.

An early version of a song that made it into the game. It sounded too DARK. Too BROODING.
Hopefully it won't be too much longer til the game plops. Keep your eyes on the prize, and visit my blog compulsively.