There's nothing that makes me feel more inadequate about myself than getting some really great fan art. There's nothing that make laugh more than fan art about Johnny Five Aces. As such, there's nothing that makes me laugh at my own inadequacy than this piece of fan art by JoeSlob. The picture is called JOHNNY FIVE ACES, which is more or less a perfect title for it, as it more or less encapsulates everything that is going on in the picture, which is below: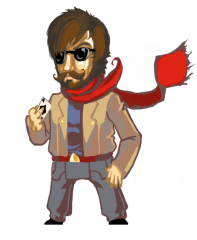 I've also added another piece of fan art to the The Underside's Fan Art section. This one's done by the ever talented, Annabelle Kennedy. It puts The Underside's Ip in the company of many of indie games' iconic characters: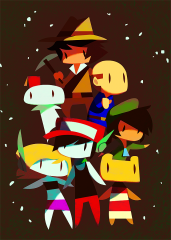 If you've got any fan art related to any of my games, please, by all means, let me know about it! Any feelings of inadequacy will subside, but the feelings of love and care will last FOREVER.