In the beginning…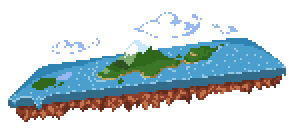 In the beginning, the World was flat, and it was pure, and it was good.
From atop his Almighty Throne, The Universal King looked upon the plain, white landscape.
He grabbed his Almighty Paintbrush and with one mighty swing of his arm…
stroked layers of Life onto the expansive canvas.
But then the World became full of corruption and evil, and so the Universal King decided to start anew.
And so with a mighty flip, he turned the World upside down, and so the top side became the Underside, and the bottom side became the Overside.
And it was good.
The Overside's new inhabitants, the People, thrived for millions of years.
However, these People, made of dirt and originating from the under side of the World, were inherently dirty.
And so the world again became corrupt and evil.
So, The Universal King, now running out of sides to flip to decided that the World was beyond saving,
and so he decided to wipe it from existence.
But unable to destroy the World that he had so cherished and loved, he gave the World his ultimatum:
If he could find a single Person who could show him that the World had not completely fallen to evil,
the World would be saved.
But if he could not find a reason to preserve his creation,
the World would be destroyed by his very hands.
Will the world be saved?
Does such a Person truly exist?